Photos, the app that comes with every Mac has come a long way from its iPhoto beginnings. While not as flexible as Aperture (which has been discontinued), it's an easier to use and learn application that has plenty of powerful features for your organizing and editing tasks.
While the Edit tools in Photos can accomplish much of what you might want to do with your images, Photos makes it easy to access even more powerful features via the Extensions option.
There are a couple of ways to edit your images in applications other than Photos. The most obvious would be right clicking on the photo or selecting Edit > Edit With. This will send your image to the selected application, but may not show the updates when you're done. In my experience, Photoshop is about the only application that reliably works with Edit With.
A much better approach is to use the Extensions option in Photos.
When you select an image in Photos and choose Edit, you'll see a … icon in the toolbar

Click on this icon and you'll see any compatible extensions that are available to you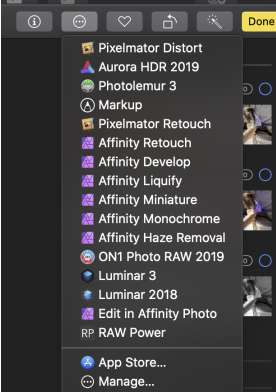 Not seeing anything? The App Store link will take you directly to many of the options available. In my case, I have both Pixelmator and Affinity Photo installed as replacements for Adobe Photoshop. I also use RAW Power as a more powerful raw editing tool.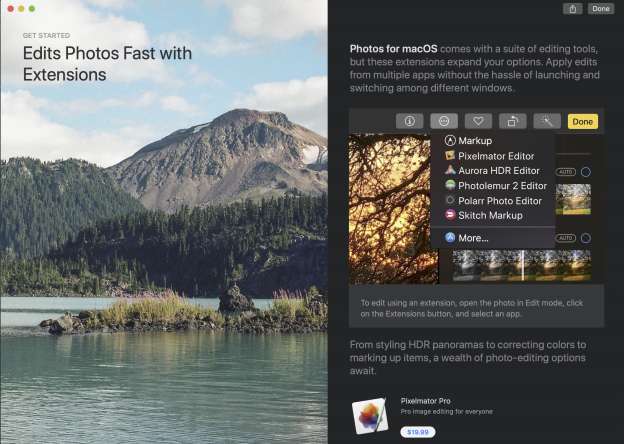 Selecting one of the options here will open your image in that extension. In the example below, I've selected RAW Power to make adjustments to my image. When you do your edits with an extension, you'll be taken into that application with all the features normally available if the app was launched and the image opened directly. However, the title bar of the app will be different – you'll see Photos along with the name of the app you opened. More importantly, you'll see Cancel and Save Changes buttons. Click on Save Changes and your adjustments will be applied and your image returned to Photos.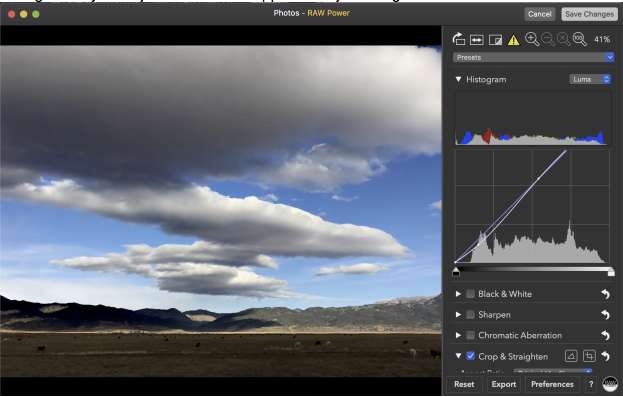 Choosing this method also means that you can back out of changes made later by choosing the Revert to Original option in Edit mode.
While Photos is an easy to use application, it's a surprisingly powerful application that can be made even more useful through Extensions. And by using Extensions, you can avoid the headache of keeping your library updated, and having multiple copies of your images clogging up space. You'll find Extensions available for HDR, black and white conversion, compositing images, creating text, and just about anything else you might want to do.
-BPSOP Instructor: Jon Canfield
Jon Teaches: