Did you know that most picture taking situations have at least six possible combinations of f/stops and shutters speeds that will ALL result in a correct exposure; not a creatively correct exposure but a correct exposure? But only one, sometimes two, of these combinations of f/stops and shutter speeds is the creatively correct motion-filled exposure.
Every 'correct' exposure is nothing more then the quantitative value of an aperture and shutter speed working together within the 'confines' of a predetermined 'ISO'. For the sake of argument we are both out shooting a city skyline at dusk, using a film speed of 100 ISO and an aperture opening of f/5.6 and whether we are shooting in manual mode or aperture priority mode the light meter indicates a correct exposure at 1 second. Are the other combinations of aperture openings (f/stops) and shutter speeds can we use and still record a 'correct' exposure? You bet there is! If I suggest we use an aperture of f/8 what would the shutter speed now be? Since we have cut the lens opening in half (f/5.6 to f/8) I will now need to double my shutter speed time to two seconds to record a correct exposure, (1 sec + 1 sec= 2 seconds.) On the other hand, if I suggested that we use an aperture of f/4 what would the shutter speed now be? Since we have just doubled the size of the lens opening (f/5.6 to f/4) I will now need to cut my shutter speed in half (1/2 second) to record the same 'quantitative value exposure'.
Let's pretend we've invited ten other shooters to join us in shooting this scene and we break into three groups. One third of the group shot this scene at f/11 for four seconds, another third shot the scene at an f/8 for a two seconds while the remaining third shot the scene at f/5.6 for 1 second. You know what? All of us just shot the exact same CORRECT EXPOSURE! Even though each groups f/stops and shutter speeds were different, the end result was the same; the quantitative value of each group's exposures is the same. I can't stress the importance of being aware of this 'quantitative value' principal. Every picture taking opportunity offers you no less then six possible aperture/shutter speed combinations. And why must you know this? Even though each group has the 'same' exposure, the motion-filled opportunity that each group shot may look radically different. Knowing that each motion-filled exposure opportunity offers up six possible combinations is a start but knowing which one or two exposures best conveys or capture the motion before is the key. Once you are armed with this knowledge you can begin to fully explore the truly endless road of creatively correct motion-filled exposures!
The Tower On A Tripod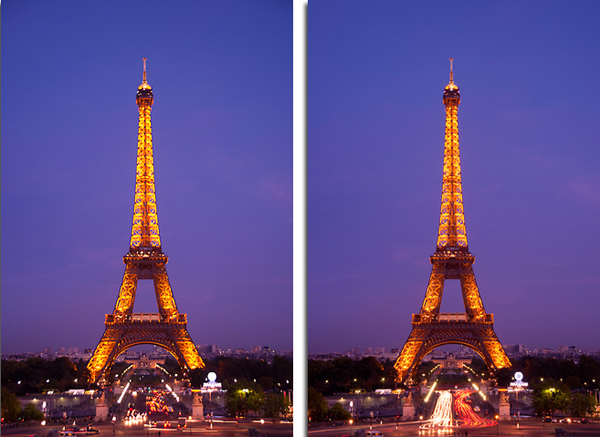 The Eiffel Tower is arguably the most photographed monument in all of Europe – if not the world. Paris continues to hold the top spot as the world's number one travel destination and for many that trip to Paris is a once in a lifetime experience so all the more reason to come back with the most compelling exposures and compositions possible! And one sure way to do just that is to embrace the simple law that every scene before you offers up no less than six possible correct exposures! And when shooting dusk scenes in the city or along the ocean where crashing surf smashes against the rocks, the longer the shutter speed, the better, and when I say longer I am talking seconds – FULL seconds, not fractions of seconds – and that also means the need for a tripod.
Compare the two photos above, both the same exposure in terms of their quantitative value yet notice the obvious and very strong visual difference between the two compositions. The traffic flow in the first image (above, left) is 'abrupt', cut short by a 'fast' exposure of f/5.6 at a ½ second shutter speed. Compare this to the second image (above, right) where an exposure of f/22 at 8 seconds took place-both are correct exposures in their quantitative value, but radically different in their visual presentation. You be the judge, but I would be very surprised IF you were more fond of the first image with the somewhat abrupt traffic flow. The lesson to be learned here is a simple one; how much motion you record in a given scene is 100% dependent on the which of the six possible correct exposures you choose to use-in this case, the longest possible exposure time seemed to be the better choice! Trial and error are an important and vital part of photographic excellence, so don't be afraid to experiment with various combinations of apertures and shutter speeds. (Don't confuse this exercise with 'bracketing'. Bracketing refers to shooting several additional exposures that are over and/or under exposures of what the meter suggests is correct. ) The above exercise is merely about exploring six possible 'same' exposures and their various visual effects.
Check out the video below!

You Keep Shooting!
Bryan F. Peterson/Founder BPSOP