FOR YEARS I ENJOYED SHOOTING A TWO-LIGHT SETUP with my two White Lightning Ultra 1200 studio strobes, placing each in a softbox – one on the floor, pointed up, and the other on a light stand, pointed down. Between these two softboxes would be a 4′ x 4′ sheet of 1/8-inch white Plexiglas on which I'd place numerous subjects, including flowers and fruit and vegetable slices. The image below is an example made this way. But as much as I enjoyed this setup, it did take up a large corner of a room, and it was expensive!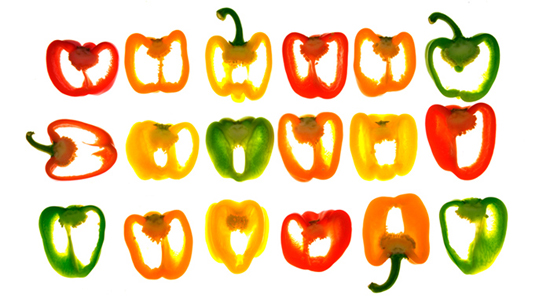 Then one day I stumbled upon the obvious. I lined the inside of a medium-size cardboard box with white poster board, replicating a softbox. I put one of my portable electronic flashes inside the box, pointing it up. On top of the box, I placed a sheet of 1/8-inch white Plexiglas which I found at Home Depot. I mounted another portable flash on a light stand overhead about 2 feet above the box. Due to the obstruction of the one flash in the box, you will need some kind of wireless device to get both of the strobes to fire simultaneously. I've found a radio remote, such as a PocketWizard, to be most successful.
To start, set both flashes to the same output – full power and in MANUAL FLASH MODE. Make sure that both flash distance scales indicate the same f-stop. (F/11 is a good place to begin since this is a set-up where depth of field is not an issue). Keep in mind that the flash in the cardboard box will be illuminating the subject through the 1/8-inch Plexiglas, so don't place a diffuser or any other light-filtering device on that particular strobe. The Plexiglas becomes the diffuser. However, do place a diffuser on the flash sitting atop the light stand flash. Next, call on a normal sync speed of 1/125 sec., 1/200 sec., or 1/250 sec.; that choice is yours. Then place a flower or other small subject on the 1/8-inch Plexiglas, and shoot down on the setup. Check your exposure. Your goal is a subject floating in white space while being well exposed from both front and back. Many subjects will appear to glow. This is due to the strong backlight of the strobe firing from inside the box. You may end up decreasing the power of one strobe to make it mesh more with the light output of the other. It's easier to make any changes to the strobe outside the box (the one on the light stand). Here are two examples of how magical this lighting set-up is! Both photos: 105mm lens, ISO 200, f/11 for 1/125 sec.

Click below to watch a video stream that makes this idea even easier to understand – and keep on shooting!
All my best,
Bryan F. Peterson