Never place your subject in the center of the frame; it will create a static feeling. Never place your horizon line in the middle of the frame; it will create a feeling of indecision and negative tension. And, whatever you do, don't forget to always fill your frame—move closer or change to a longer focal length.
Don't you just love rules? As my parents will attest, I have always loved rules. Not so that I could follow them, but rather so that I knew where the boundaries were. That way, I could clearly see that I had crossed a boundary and could take delight in knowing that I was clearly breaking a rule. Fortunately, my rebellious phase didn't last too long. Had it gone on much longer, I very well might not be writing photography books but instead standing in front of a judge.
DAM!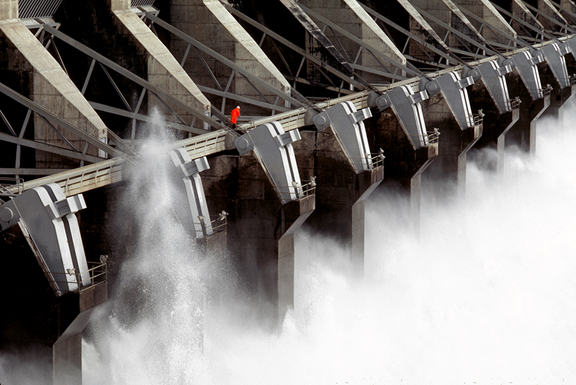 There are always exceptions to rules. You don't always have to follow the rules. They are just suggestions. Sometimes, a subject looks best centered in the frame. Sometimes, a horizon line that divides a picture directly in half works. There is a certain importance in not always relying on rules, otherwise you might not develop confidence in your vision when it differs from that of others. Take a look at these three images and realize how all three are far being frame filling 'portraits', yet when it comes right down to it the 'portrait' despite its incredibly diminshed size is truly the star!
How can such a tiny subject grab your attention when it doesn't even come close to filling the frame? The answer lies in a basic law of visual perception: The smaller a subject is in relation to its surroundings, the more unusual it appears; and, the more unusual it appears, the more it stands out. This is similar to disrupting a pattern (see the lower image on page 71): Whatever interrupts the pattern then becomes the focus of attention.
On closer inspection, this image is, in fact, filled to the edge of the frame with contrasting tones and shapes. Since the woman walking up the steps (of La Defense in Paris) jumps out in contrast to the surrounding tones and shapes, she becomes the focus. If you were to place a lone figure anywhere inside this frame, you would achieve the same effect—the figure would always remain the point of interest.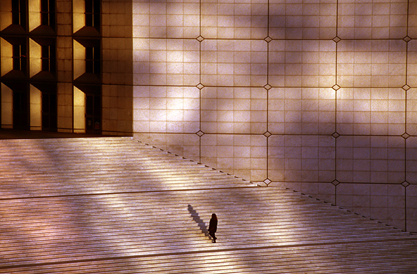 How big is that haul truck? Since there is nothing that comes close to replicating the human shape, (other than monkeys and apes) the odds are quite strong that when one see's a silhouetted shape that replicates the human form, the eye will assume it must be "one of us" and quickly judgments about the size and scale of the surroundings based on the shape fo the human form. So how big are those haul trucks they use at gold and silver mines around the world? Really BIG!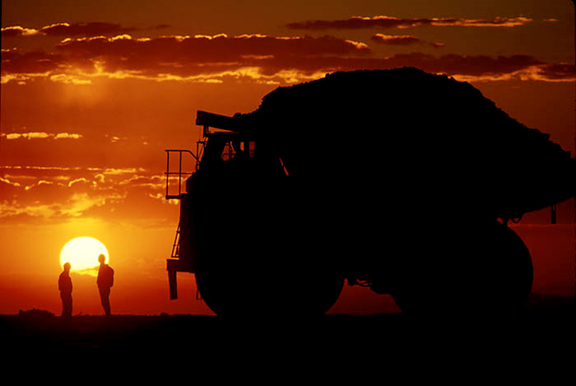 THIS WEEKS SPOTLIGHT IS ON THE PHOTOGRAPHER, SHERRY BOYLAN…
When I first met Sherry, I recall vividly her level of determination and stubbornness. I did not see these qualities expressed with her camera and lens, but rather I saw it being expressed at a local coffee shop in Cape Cod regarding her desired coffee order. "Assuming she has this kind of attitude with image making, she will go far", I said silently to myself. 
More than seven years have passed since that day and it's fair to say that Sherry was and still is a fiercely determined and still stubborn photographer who settles for nothing short of excellence! She is in many respects a Rock and Roll band's dream PR machine, as any one of her many 'band' images not only speaks a thousand words but it does so in 4/4 time!  As you are about to find out, Sherry knows the art of image making!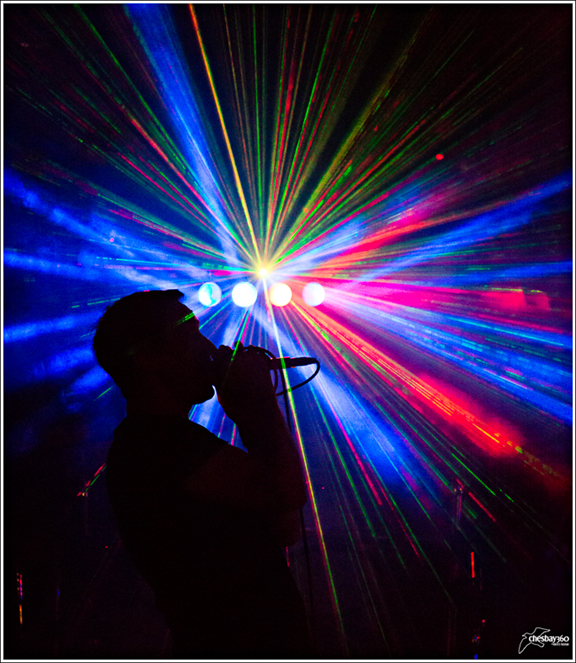 1) When did you first pick up a camera and do you remember your first picture?
Probably before I even remember. My grandmother always had a film Nikon camera in her hands, and the magic of the darkroom always fascinated me. I received a Polaroid camera when I was 7 and used it on a school field trip, a Circle Line boat tour in NYC, my first shot was a photo of the Statue of Liberty.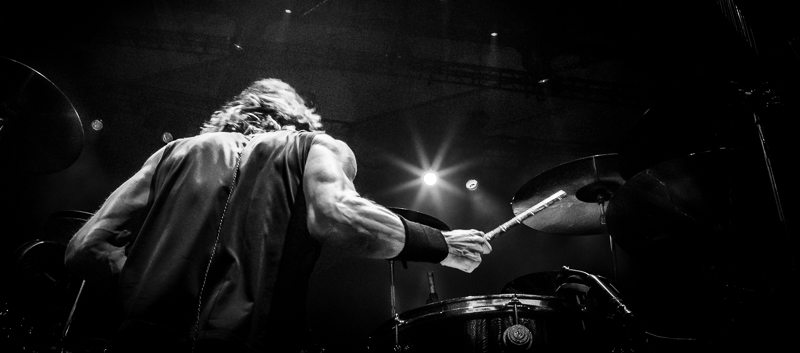 2) How long have you been shooting?
I have always had an interest in it…we lost all our family photos/history in a fire when I was 4, so I have always had an urge to document and preserve memories. It wasn't until my daughter was born that I really thought about it again, & once she took up horseback riding and competing, I found that those 12 hour days were best occupied with a camera in my hands and I was able to photograph her without the "oh mom" complaints.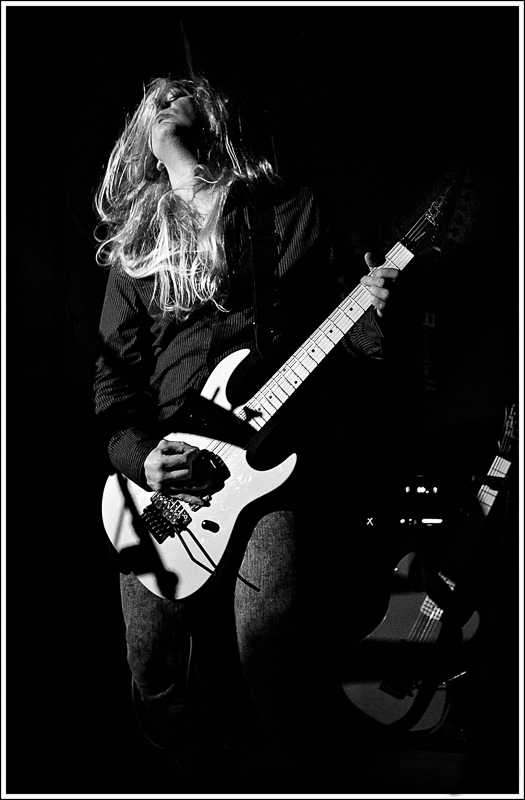 3) Why did you choose your particular specialty?
I didn't choose music photography, I sort of fell into it. As a digital scrap booker, I met a bunch of women online. To improve our photo skills we took one of Bryan Peterson's field workshops, where I met some wonderful folks, that to this day, I still travel and correspond with. That led to Photoshop World and various Photography seminars…one struck a chord with me. Alan Hess's concert photography. Music Photography is very challenging to do well. Lighting, if/when its available changes by the second, people are always in motion, there is stage clutter, obstacles between you and your subjects, you have to be mindful of everyone's expressions, move quickly, anticipate the action, stay out of the fans way, work your camera in the dark, know it inside out, and capture a 200th of a second that expresses something, be able to post process the shot and there are no second chances.. Either you get the shot or you don't. You have no control over lighting, expressions, poses, or placement. You watch, you study, you pray… a lot. Combining my love of music with photography… win/win! I am on the board of our local weekly photo club, and to keep 180 people engaged is a chore, so one of the projects I started was a themed project 52 (365 was too much for me). Mine was inspired by what Alan was doing, at the time his focus was musicians hands, so for me to stick with completing the task, I choose to photograph a musician a week.. I printed up a coffee table book at the end. Everyone wanted this book, I ended up having a book release party at The Norva, sold 200 books and haven't looked back since. I am now a full fledged band-tographer.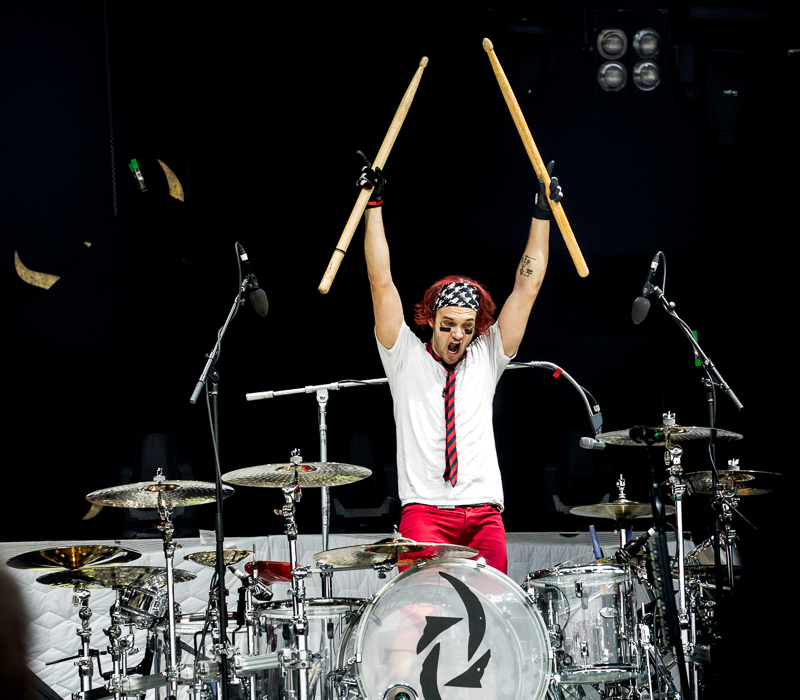 4) What are your top three destinations for shooting? Is there somewhere you have NOT shot but you hope to shoot there one day?
I love National Parks like Yosemite and Yellowstone, even though the landscape may not change, the light sculpts it beautifully and uniquely if you pay attention. New England with its rugged shorelines, rocks, crashing waves, simple colors, I could not imagine every living away from the ocean, and it reminds me of less complicated and less industrialized times from my younger years. My hope is to shoot far up north and be able to capture the Northern Lights, the magic of nature and science. Alaska would be on my bucket list also, to document one of our dwindling natural expanses and the animals of that region.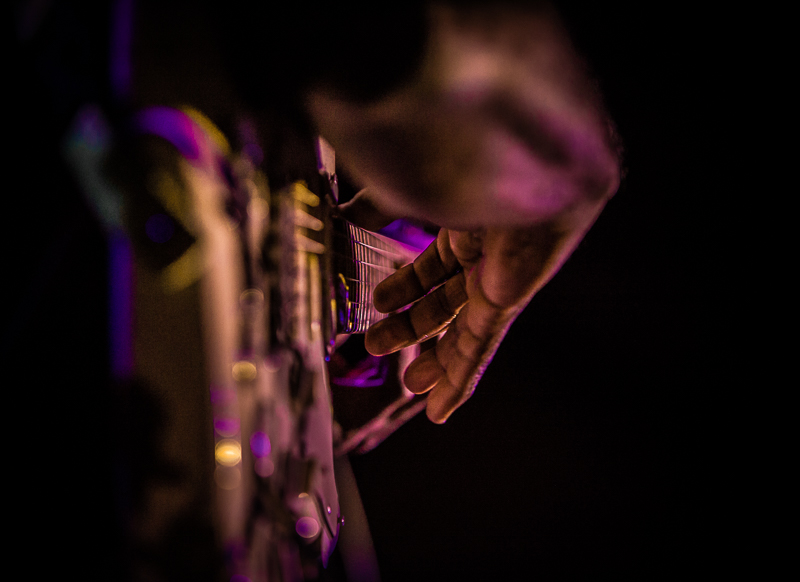 5) Which, if any, photographers inspired you the most? 
Jay Maisel, for two reasons. I am very much an introvert, my camera is my safety net, my comfort zone, I can hide behind it and work instead of socializing. The concept of just being able to walk around and meet so many fascinating people without fear absolutely had me in awe. Then I met him, in Orlando, in the hotel hallway, I was starstruck, I exclaimed to him that he was Jay Maisel! He replied, "Yeah, what's it to you?" I said, "Not a thing, just checking…" we laughed, continued our mutual NY style banter and he asked me what I like to shoot, so I replied to my world famous street/people photographer idol, "anything but people"… insert awkward silence…. He looked at me and said, "What the hell are you so afraid of? What's the worst that can happen?" For once in my life I didn't have a quick comeback.. I never forgot that conversation or my promise to him to try.. we laugh about it now when I see him..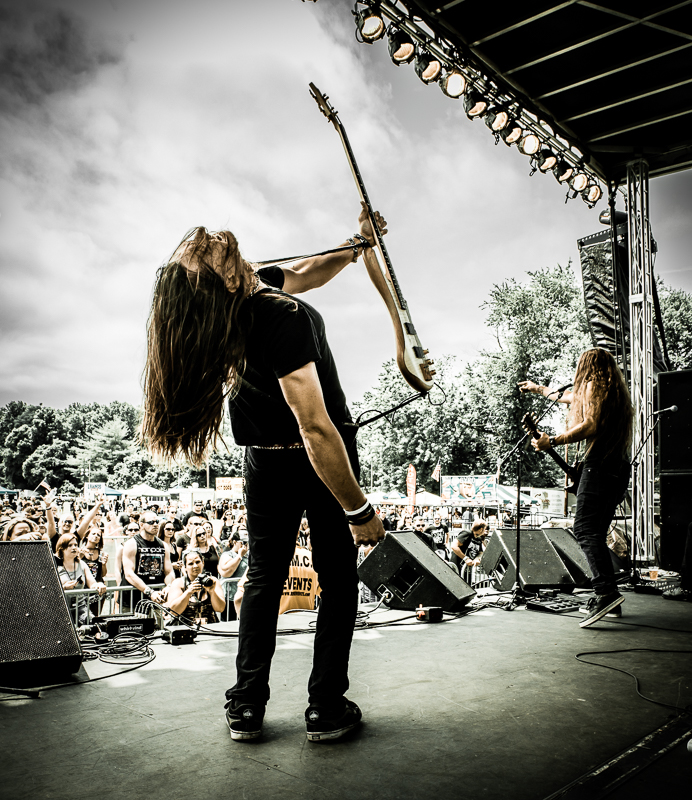 6) How do you create income from your work, e.g. gallery sales, stock, assignment, workshops, books etc.?
You don't make money with music photography… you do it because you love it and enjoy the perks along the way.. Having said that, I seem to have created a unique local niche for myself. I shoot both national and locals acts, but I love my locals! I have been documenting our local music scene since 2012. I publish books about our local rock stars, their original music and do well with that. I have work everywhere, billboards, magazines, websites, papers, merchandise, CD's etc. I consider it my resume which opens up a lot of paid event work and band promo shoots. I have an online gallery of all my show shoots that they purchase from for their promo stuff… every little bit helps. (SherryShootsShows.com)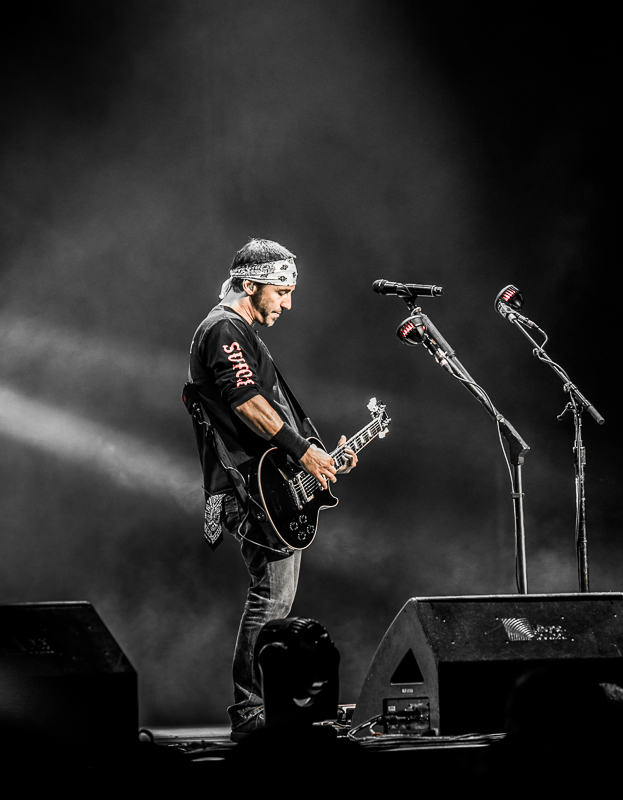 7) What one thing fuels your photographic passion more than anything else?
Feedback from my audience fuels me. I meet fascinating people, people come up to me that I haven't met saying they enjoy my work, or even better that they discovered a local artist thru my photos. I introduce musicians to each other, showcase my engineers, put a spotlight on our local music scene and people are responding, so having an impact on our local music area is quite a feeling.
8) Where do you find inspiration? 
My inspiration comes from happy accidents… continued learning, trying new things. I love online classes, dissecting photos that others take, and trying to recreate things I see. I don't want to copy anyone, I use it as a fun way to continue to build a solid knowledge base for myself. Out of that comes happy accidents and you find yourself going down a different road of discovery of new techniques.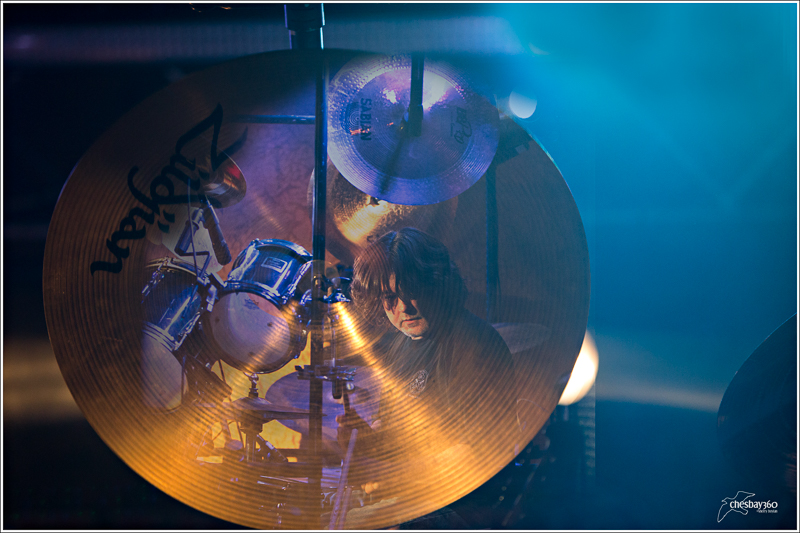 9) What camera system/equipment you use? Do you have a favorite lens? 
I use Canon gear, the factory is literally down the block from my house. I have a pair of 5D Mark III's , one with a 24-70 f/2.8 the other with a 70-200 f/2.8. I have used the Canon line from the 20D on up.. but for what I shoot, the Mark III's low light capabilities are invaluable. I have a dozen lenses but my go to lenses live on my cameras.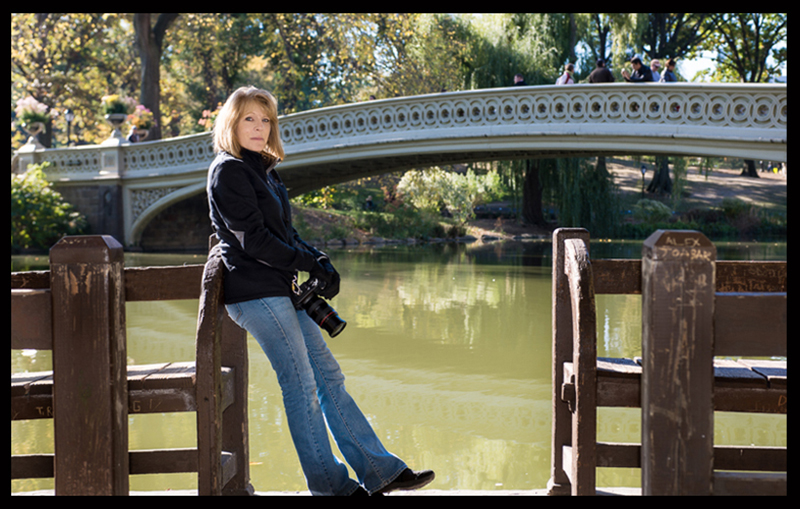 The photographer, Sherry Boylan
10) What, if any, advice do you have for our BPSOP members?
Never stop learning or having fun with photography.. Shoot for yourself, shoot in raw and practice as much as you can. Embrace and learn from your mistakes. Learn new techniques and shoot things beyond your likes and/or comfort zone because it will expand your photographic knowledge which will help across the board. Find or start a photo group of like minded people.. it will energize you and keep you on your game.
"You keep shooting!"
Bryan F Peterson/Founder BPSOP
How big is that haul truck? Since there is nothing that comes close to replicating the human shape, (other than monkeys and apes) the odds are quite strong that when one see's a silhouetted shape that replicates the human form, the eye will assume it must be "one of us" and quickly judgments about the size and scale of the surroundings based on the shape fo the human form. So how big are those haul trucks they use at gold and silver mines around the world? Really BIG!