A good photographer can most times turn ashes into beauty. With different angles, lighting or lack thereof, compositions, poses, emotional expressions whether a person, a sacred landscape, or a momentous event, with minor or major processing, a photographer can create something beautiful and amazing from what appears to be nothing.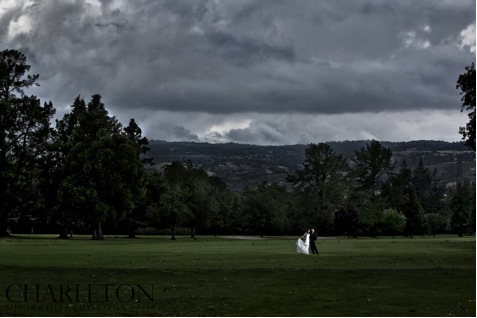 Many times, as photographers, we are surrounded by elements that would apparently make for terrible photographs. Some venues have nothing great about them. I have brides who tear up or feel overwhelmed because a storm moved in and ruined their day. I have seen photographers pass up opportunities or areas where there was plenty to photograph, but they missed it because they didn't see anything. The sun rises to high noon everyday, moving photographers to only schedule in the later afternoon. Sometimes outfits don't do subjects any justice. (I encourage my high school seniors to bring all their clothes, even their ugly outfits. Sometimes what people see as ugly actually looks good.) Excuses seem to abound, but I really believe we're in the business of turning lemons into lemonade (Lemons, meaning the possibility of having bad photographs or none at all).
A good example is weather. As a professional photographer, you should be able to shoot in any weather, and not just shoot in it, but also embrace it. Then sell it to your clients. Give them your vision. Photographers and couples panic when it comes to the weather. Snow, rain, fog, darker skies, brighter skies, blue skies, cloudy flat skies, cloudy layered skies, etc. are great atmospheric conditions in which to photograph. Even Texas-sized hail. All you have to do is ask the question, "what would happen if…?"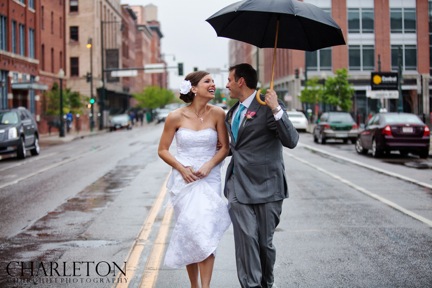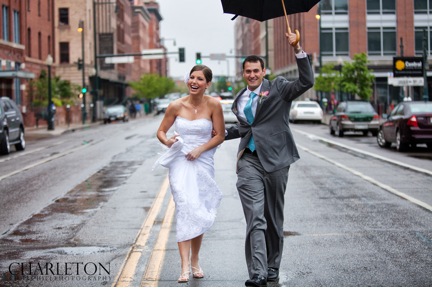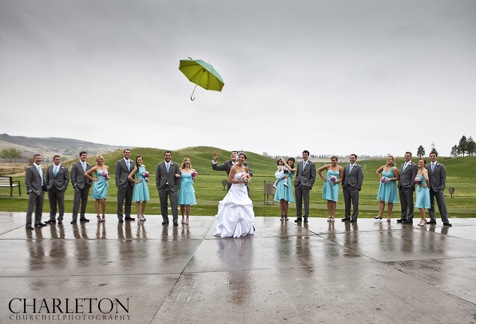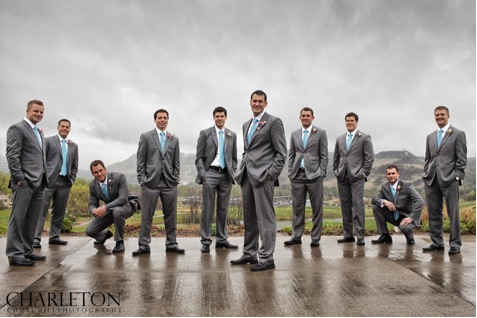 Many of my April, May, and June weddings received much rain. For some of my brides, an anxiety attack wasn't far off. For me as a photographer, it was an opportunity. In May, I photographed a wedding in Colorado. They had planned their ceremony on the venue's golf club overlooking the vast course with promises of blue sky. The next day it stormed (typical in Colorado), putting everyone inside. I passionately let them know about my vision with the rain. The bride resisted and even started some tears. She was tired, cold, hungry, and wasn't about to stand in the rain for photographs. Her husband helped in convincing her. I'm not an insensitive person, however, I do know that brides will forget the suffering and remember their wedding memories for life through our photographs. I work with all kinds of couples and know when it's time to stop.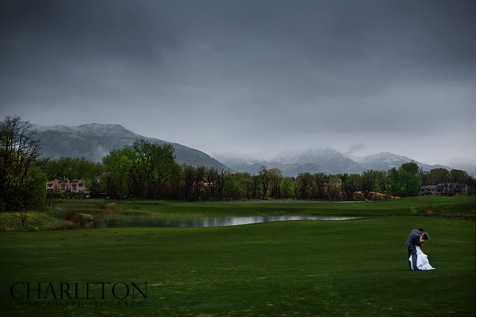 This image above is taken without flash and within a minute. The bride's dress pops against the background. It was raining and very cold, so I applaud the bride for working hard to get these images. For being allowed to photograph with little time, it didn't turn out that bad.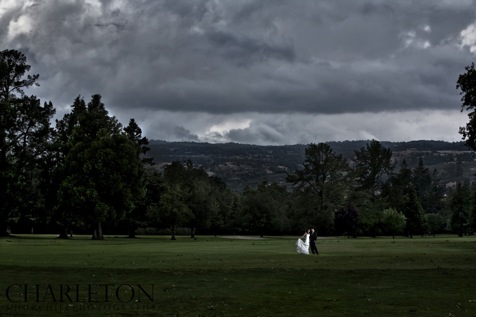 The image above is from another wedding in Napa, California this June 2011, with kind of the same set up, except for this time, I used my flash, among other changes.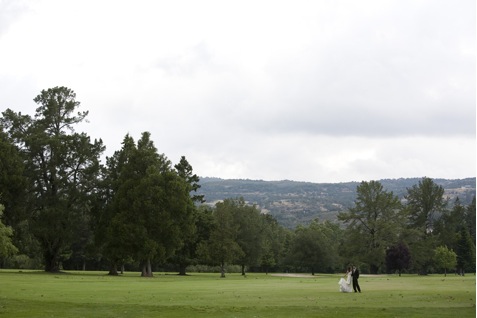 The above shot is what it looks like without a flash. They didn't stand out from the background, and the sky is plain and boring. The trees dominate the image. This image had no emotional impact. So, I brought my assistant over there next to the couple to hold the flash (580ex2), so I could underexpose the sky and the background as seen below.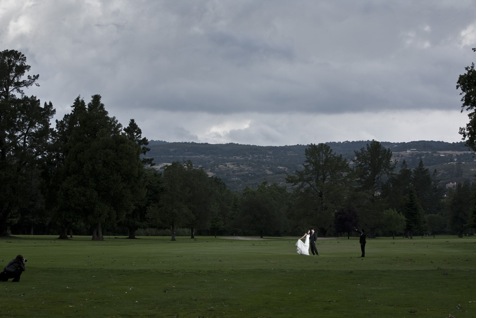 Now I can see the clouds in the sky, no longer boring and flat. I can definitely see the bride and groom popping out of the image more than the trees. My eyes are drawn once again the white dress. Now, I can take the assistant and second photographer out of the scene, adjust the lighting, and deliver the image to the client. However, this is one of those images that I wanted to put a little more time into that would require extra time.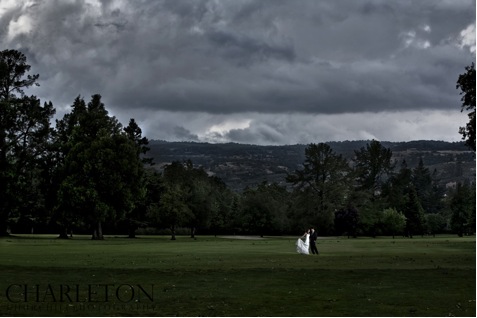 So, in the finishing image, I dodged and burned mostly, along with other items such as levels, curves, color preferences, clarity, and exploring PS layer options. I wanted the trees to pop out a little more, and not be hidden by purely dark tones. So, I decided to paint light onto select areas of the trees to add a dimension of light.   I also wanted to reveal the dramatic clouds. Flash really helps in bringing out the skies.
I hope this encourages you to embrace any obstacle in your journey to photograph. I mostly talked about weather, but you can use your creative mind to figure out how to turn a possibly bad photograph into a stunning one.
My history and journey with BPSOP
My name is Charleton Churchill and I live in northern California in the mountains with my wife of twelve years, and my three daughters. I jumped into photography in 2006 when I purchased a Nikon DSLR in my preparation to climb Mt. McKinley (Denali), Alaska, tallest mountain the U.S. I was eager to learn how to use the camera before I attempted the three-week expedition in 2007, and later 2008. What started with landscape photography (which I still love), turned into requests to photograph weddings and seniors, which I hadn't planned. Later, after some major decisions in April of 2009, I purchased my business license and went full steam ahead. To this day, my business has been explosive, booking nearly forty weddings for 2011 (my maximum), with travel throughout the United States. I have been in the top 5 best photographers in northern California Sacramento by the KCRA A-list in the last few years, #1 best 2010 Sacramento Photographer. My work is being published in magazines for my fashion and wedding photography.
I thank God for people he has placed in my life. I owe many thanks to the mentors who have poured into me. Mike Larson, Johnathan Esper, Travis Hoehne, Robert Evans, David Beckstead, BPSOP, and especially Kevin Focht from BPSOP, who has taken me under his wing. Starting in 2009, I took a total of six photography courses with BPSOP, most of them with Kevin Focht. I took only one course to try it out before I started taking more, realizing these classes were teaching me exactly what I needed to know. In 2009, I asked Kevin, my instructor at the time, if I could fly up to Portland on my dime to assist him for a wedding. And after that weekend, he was no longer just my instructor, but a good friend. And to this day, I consider him a good friend. I thank Chris Hurtt from BPSOP for asking me to share this information I also thank Bryan Peterson co-founder of BPSOP for making all this possible. I have nothing but the best ratings for BPSOP!
You can find Charleton's web site at www.charletonchurchill.com
Charleton Churchill / Instructor for Wedding Photography @BPSOP