This is one post in a series on how to create a sense of place.
---
CASE STUDY: TEATIME AT A CHARMING HOTEL
Next time you're taking photos on holiday or during a celebration, include detail shots to flesh out your story. When added together with photos of people, detail shots help show the mood of your scene.
Have a look at the images in this case study:
front door of hotel, taken across flowers
hint of umbrellas and gingerbread railing of hotel
iron gate and hedge
bistro chairs on gravel
backs of bistro chairs with trimmed hedge
tea, teapot, and cutlery
knife and fork wrapped in paper napkin
cinnamon and sugar crepes on serving platter
Do you see how each image is taken close up and is framed tightly? This is what you're looking to do with your detail shots.
Each of these images is like a single idea, and by combining several, a story is created.
TIPS TO GREAT DETAIL SHOTS:
Vary the camera angle in each shot. Shoot up, down, out, across, or through a subject.
Frame your subject tightly to omit clutter. Reveal part of the subject.
---
SIGN UP NOW FOR THESE CLASSES TO LEARN STORYTELLING
Amazing Travel Photos Made Easy
Celebrate Your Life in Beautiful Images Part 1
Celebrate Your Life in Beautiful Images Part 2
No post processing skills necessary for any of Brit's courses. You may even use your phone!

Amazing Travel Photos Made Easy
teaches you how to create a collection of images that not only documents your holiday but that conveys how it felt to be there.
This course focuses on the creative side of photography and emphasizes getting all your shots in-camera.
You'll learn how to get amazing travel photos using any kind of camera!
Learn how to capture these experiences:
landscapes
seascapes
cities & architecture
wine & dining experiences
nature
wildlife
Celebrate Your Life in Beautiful Images Part 1 gets you started photographing how you want your life to look and what you want more of in your life.
Ever wonder if the craziness of your life is, indeed, worth celebrating? The answer is a resounding YES!
Start taking images that that look like they came out of a glossy magazine.
This course focuses on the creative side of photography. You'll learn how to capture images of your everyday life in a fresh and exciting way.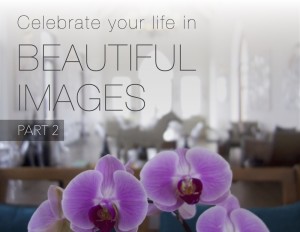 Celebrate Your Life in Beautiful Images Part 2 takes you further by focusing on capturing the essence of your loved ones — think about the little things that you'll always remember, such as how they hold their favorite coffee mug in their hands!
Do you wish you had images of your loved ones that capture who they are as a person? What about a series of images that portray your life as nicely as a wedding photographer portrays a wedding?
Get ready to have fun creating lifestyle photos that you can't wait to share with your friends and family.
This course delves into creative ways to capture even mundane moments and beautifully photograph even camera-shy loved ones. They'll finally stop saying they don't like seeing themselves in photos!
Get a taste of how Brit will work with you.
You can also work with Brit privately
Mentoring: Schedule a live session with Brit via Skype
Get a private image video review: Private Video Image Reviews
Find out about all of Brit's courses, including Photographing Fine Art & Craft