---
Lightroom Presets:
Taking Your Photos from Good to Great
---
Are you looking for a way to bring your pictures from good to great in Lightroom? Lightroom is loaded with preset features that will simplify your workflow. In this two week class, we will show you how to create your own presets to use over and over and create your own signature style. You will receive detailed information on the website page each week, as well as tutorial videos to help you understand the course material.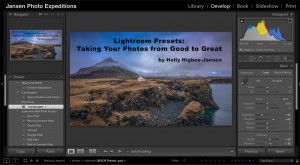 What are presets? They are one click recipes that allow you to apply special effects to your images. In this class, we will show you many different styles of presets from black and white, to vignettes to special effects. We will also show you how to organize your presets and how to save them.
This class is for the student that has a beginning working knowledge of Lightroom or for those of you who have taken Holly's Lightroom Quick Start Class. This class covers the power of using pre-sets in Lightroom and speeding up your creative workflow.
** Please take the Lightroom Quick Start Class first if you are brand new to Lightroom.
Topics Covered in This Class Will Include:
How Presets work, what are they?

How to create presets

Color Adjustments

Vignettes

Black and White

Vintage or classic looks

Organizing and Saving, moving and storing Presets

Import presets

Creative presets in the develop module

More creative presets

Export presets

Slideshow and print presets
Course Requirements:
Adobe Photoshop Lightroom 6 or CC

(Earlier versions of Lightroom can be used, but some features are not available)

Beginning knowledge of Lightroom or Have Taken Lightroom QuickStart Class

Desire to learn and have fun!

---
Instructor: Holly Higbee-Jansen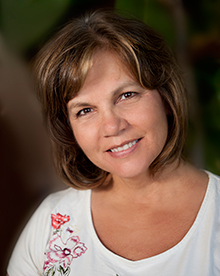 Holly Higbee-Jansen is a photographer, workshop leader, trainer, blogger, and speaker and who enjoys teaching photography and the creative process.
Holly has worked in creative fields all her life. Her passion for art, photography and design started as a young girl when her family attended photography workshops with Ansel Adams in Yosemite National Park. Their conversations around the dinner table were about image composition and where their next photographic adventure would be.
Over the years, Holly began showing her photography in local art shows and galleries and sold it for use in numerous design projects. Much of Holly's work hangs in private and corporate art collections such as State Farm Insurance and Sysco Food Services Corporate offices in California.
Holly's passion is teaching group and private photographic workshops along with her husband Mark Jansen through Jansen Photo Expeditions. Their photographic intensive field guided workshops offer beginning to advanced landscape photographers the tools they need to capture the beauty of amazing natural locations throughout California, the American West, Iceland, and Costa Rica.
For a complete list of current workshops go to:
Jansen Photo Expeditions – www.JansenPhotoExpeditions.com

Holly's Blog: http://jansenphotoexpeditions.com/blog
Facebook – https://www.facebook.com/Jansenphotoexpeditions
Instagram – http://instagram.com/photographyexplorations
YouTube – youtube.com/c/Jansenphotoexpeditions
Google+ – https://plus.google.com/+jansenphotoexpeditions
500px – https://500px.com/hhjphoto