Though this eight-week class is essentially designed for beginners, the skills levels discussed quickly ramp up through intermediate to some quite advanced concepts so that, by the end of the class you'll be able to create your own fabulous masterpieces. We all need extra time for our hobbies because life can so easily get in the way. From experience four weeks is never enough time to complete the assignments so I have decided to extend the deadline to two months, giving you the space to soak up all the materials, the instructional videos, plus the time to complete the assignments. Two months also gives you the time to fit this class around a previously-planned vacation, work deadlines and a busy family life.
Although clearly not marketed for the professional, Photoshop Elements is an editing powerhouse in itself. It features an amazing range of photo editing tools, some of which are inherited from its more expensive (and far more complex big brother Adobe Photoshop CC) while other features are unique to the program itself.
Learn how to quickly improve your photos, turning them from 'so-so' to absolute 'Wow' shots with little more than a two minute tweak. But Elements is a lot more than a tool to merely improve the brightness or colour of your photos.
Learn how to use it for creating amazing multi-layered effects, posters, business cards, greetings cards, note papers, panoramas, multi-media slideshows and as a powerhouse fuelling your social media presence.
Once assignments are uploaded to the BPSOP server, the work is assessed and a video critique reply is posted on the tutor's Vimeo site (Note: there's no need for students to have their own Vimeo account – a link is sent through directly from the teacher).

Course Outline:
Week ONE
Introduction – and how to organise your photos (setting up the Organizer)
Looking at alternative ways to organise your pictures using iPhoto, Picasa, Lightroom, Aperture, iPhoto, etc.
Working in the Editor spaces. Explanation: eLive, Quick, Guided and Expert modes
Thoughts on the best workflow practice
10 ways to open photos
Auto Fix tools: when and how to use them
The best photo fixing tools: Levels, Hue/Saturation, Clone Stamp
RAW Workflow – understanding the RAW advantage
Updating RAW converters
Resolution and Canvas Size
Print Preparation – sharpening your picture files
Week THREE
All about the Selection tools (Magic Wand)
Selection brush/modes
Fine-tuning selections
Saving selections
Selection modifiers
Using the defringe and Feather functions
Creating multimedia slide shows
Levels, Hue/Saturation and other important tools
Week FIVE
All about creating and using Layers
Bending and re-arranging layers with Transformations. Creating posters, kaleidoscopes and scrapbooking effects
Using Photomerge: Panoramas, Face Replace, Scene Cleaning, Exposure and Style Matching
Getting professional with the retouching tools
Learn the basics of the Clone Stamp and Healing Brush
Week SEVEN
The ultimate in repeatability: working with layer masks
Layer Masks, selections and illustrations
Working with text, making a business card, greeting cards, all about layer Blend Modes
Esoteric Elements: Using fancy filter effects, re-composing and project-based features
Spreading the word: uploading your work to social media
Course Requirement:
Most of the techniques covered in this class are relevant for the most recent versions of Photoshop Elements (i.e. from version 11 onwards).
Note: You do not need to have your own Vimeo account to receive your feedback. Links are sent directly from the author's Vimeo account to the enrolled student.
Instructor: Robin Nichols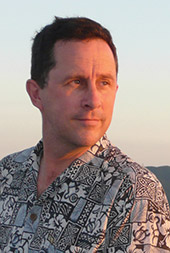 Like a few others involved in the industry, I'm in the envious position of being able to combine my life's passion, photography, with my job. And, even though I spend too much time in front of a computer, it remains one of the best occupations in the world…
Born in the UK, I've spent the past 30 years in Sydney. I began work in Australia as a cameraman in the audio-visual business, then as a freelance photographer. In the nineties I worked as a contributing freelance writer for several photo publications, then as a full-time magazine editor for more than eight years. In 2000 I started my own publishing business producing Australia's best-selling specialist digital photo techniques publication: Better Digital Camera magazine.
With this I aggressively pursued the goal of producing clear, well-illustrated information written in simple English and continued to develop this plain-speaking style in another specialist magazine, Better Photoshop Techniques. During this time as a magazine editor I also wrote several books on software post production and web design.
Nowadays I mostly teach in Sydney and run specialist photo tours and workshops to photo-centric locations such as South Africa, Botswana, Namibia, Ethiopia, Japan, Bali and Cuba. When not travelling I run photo workshops, teach digital photography, video and post-production classes online and in face-to-face classes locally through Sydney University.
My work can be seen online at:
www.robinnicholsworkshops.blogspot.com
Vivid, Sydney's annual light show
https://vimeo.com/67956116
Time Lapse, HDR and Video stills (workshop promo piece from Hill End, Australia)
https://vimeo.com/58090043
Photo Trip to Cuba, 2012
https://vimeo.com/53299352
On Safari with Robin Nichols (promo)
https://vimeo.com/72639470
GoPro for Grown Ups (shot whil on a trip to Kiyumizu-dera shrine, Kyoto)
https://vimeo.com/79288072
Honey Badgers at Okonjima, Namibia
https://vimeo.com/91274113
Kitchen Objects – assignment ideas
https://vimeo.com/113884701
Black Coffee – assignment ideas
https://vimeo.com/113884703