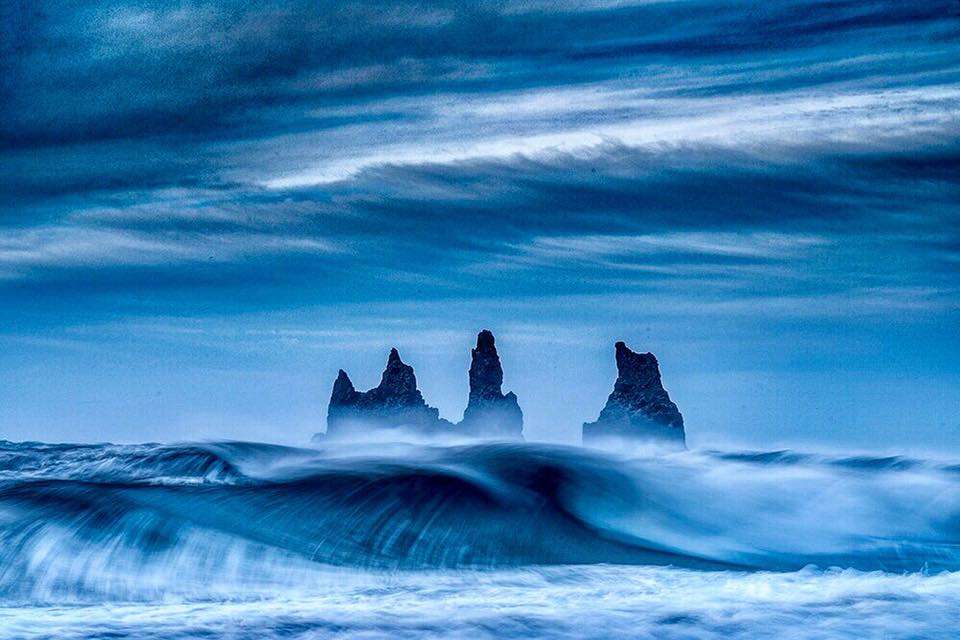 Sometimes the magic works. On this dark, somber windy morning in Vik, Iceland, the weather and light opened the door to motion-filled opportunities i.e. slow shutter speeds such as 1/2 and 1/4 second were readily available, particularly with low ISO's and small apertures. Of course, a tripod would be needed as this would allow me to record a razor sharp image of the rocks, while at the same time record the 'dance' taking place in front of the rocks.
But since you can't control the 'dance', (waves or the wind) you resign yourself to the act of "pray and spray", and out of 113 shots, over the course of a mere 10 minutes, I managed to record four images that I felt best expressed this morning's inclement weather. I liked how the sky and wave appear to be in sync. (In order to elevate the mood of the weather on this cold morning, I set a custom WB between Tungsten/Incandescent and Fluorescent which accounts for the somewhat blue cast seen in this mono-chromatic image.
Nikon D500, Nikkor 18-300mm, at 300mm, (effective focal length 450mm)
F20@1/2 sec. ISO 50.
You Keep Shooting,
-BPSOP Founder – Bryan F Peterson
Bryan Teaches:

Understanding Exposure & Your DSLR
Understanding Color, Seeing Color & Composing Color
Understanding Close-Up Photography
Mastering Nikon Flash Photography