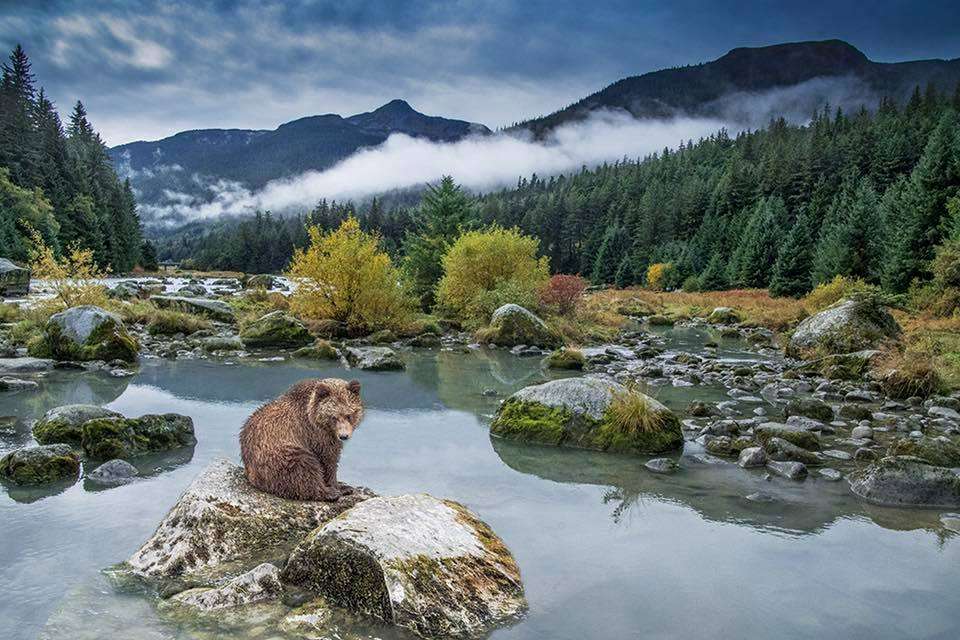 Most of us are familiar with the saying, "When a tree falls in the woods, and there is no one there to hear it fall, does the tree make a sound?" Well, here is a 'similar' question, but first the background story. On this particular morning a few weeks ago, outside Haines, Alaska, I SAW a bear cub, sitting right on this rock, and about 10 meters away, his Mom and two siblings were in the shallows of the river feasting on salmon.
But, let's be clear, the wide angle shot you see here was initially photographed WITHOUT the bear cub anywhere close by (for reasons that should be obvious) and only later that morning, while shooting from the safety of my car, I was able to take a moderately wide angle shot of a bear cub sitting on a different rock. Upon returning home, and through the 'magic' of PS, I was able to drop that bear cub onto the same rock which I had seen him sitting upon earlier that morning.
And now to my question; If I 'move' a bear from one rock to another in the name of 'art' and I don't make a sound about doing it, is anyone hurt by this 'lie'? I have very strong feelings about 'manipulated' images, "Just because I can, does not mean I should, but when I do, you'll be in the know." Okay, now you know how I feel. How about you?
Nikon D500, Nikkor 18-300mm, at 21mm, F/22@1/30 second, 200 ISO.
You Keep Shooting,
-BPSOP Founder – Bryan F Peterson
Bryan Teaches:

Understanding Exposure & Your DSLR
Understanding Color, Seeing Color & Composing Color
Understanding Close-Up Photography
Mastering Nikon Flash Photography