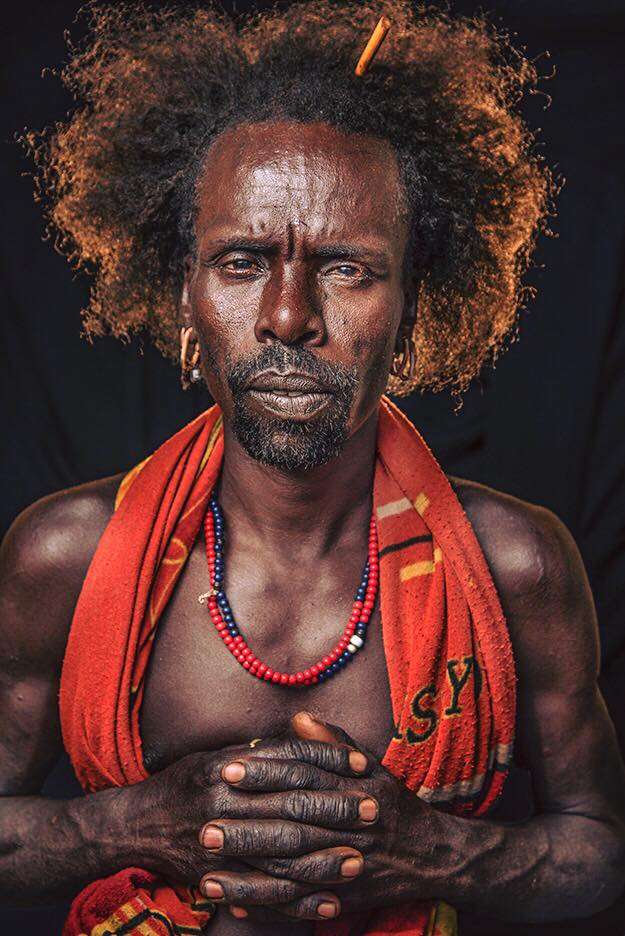 When you literally 'move-in' with the Hamer and Karo tribes of SE Ethiopia, it should come as no surprise that you find yourself in a constant position to create great shots.
Over the course of four days, my seven students and I set up camp in the villages of both of these tribes and on one of those afternoons with the Hamer tribe, we set up a portable studio, outdoors, against the north facing wall of a crumbling schoolhouse. (More about my hope to build a new schoolhouse in an upcoming post!)
We set up a portable studio, consisting of two nikon strobes, one front facing, into an umbrella, and the other, was placed behind the subject with an amber gel to create a hair and rim light. Finally, a black cotton long sleeve shirt that belonged to one of my students, Jeannie Griggs, was hung in the background. No doubt about it; an improvised studio to say the least but further proof that a simple portable makeshift studio is worth packing on your next outing!
Soon word went out into the surrounding hillsides and valleys that a photo studio was 'open for business' and the normally empty village of mid-day was soon crowded as both men and women put work aside and came in from the nearby Sorghum and Corn fields to get their portrait taken AND each was also given an Instant Print. The excitement and the lines of willing subjects that formed around the makeshift studio was akin to an IPhone release!
There were many favorites taken by all of us that afternoon, but this one is perhaps my most favorite of all!
Nikon D810, Nikkor 24-120mm, F/8@1/250 second, 50 ISO.
You Keep Shooting,
-BPSOP Founder – Bryan F Peterson
Bryan Teaches:

Understanding Exposure & Your DSLR
Understanding Color, Seeing Color & Composing Color
Understanding Close-Up Photography
Mastering Nikon Flash Photography